2,000 Vendors, 6,000 Products, 30,000 Features..
Buyers, Marketers, and Salespeople are Overwhelmed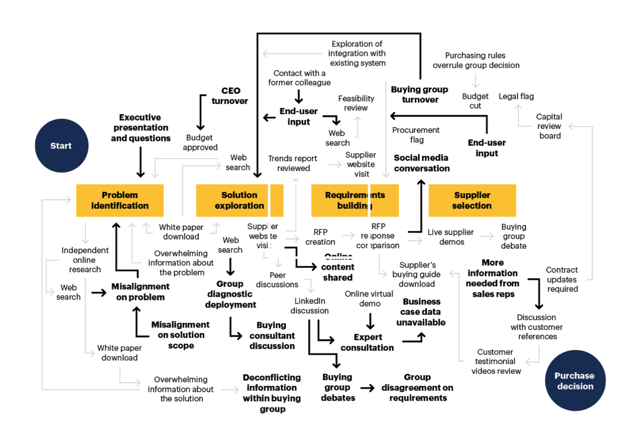 It's a Distributed-Denial-of-Sales
Some quick math shows how tough it is to sell and to buy.. Over 2,000 viable cybersecurity vendors, assume each one offers an average of three products, and each product has an average of five key features ..- you get the picture.
Buyers have easy access to information yet they spend 50% of their time researching and only 17% is spent meeting with vendors, And it takes 6-18 months and 7-10 people to reach a decision.
Selling complex technology -and winning means vendors must provide impactful information tailored to the needs of each buying team.
CISO's and IT Security Teams Want Information That Helps Them Simplify The Purchase Process
The Margin For Error is Slim


Vendors That Make Buying Easier Win Big
CISO's want to partner with trusted vendors to help them build their security programs, and trust starts with the buying process. The buying environment today is complex and exhausting, IT security teams want relevant, credible and useful information that helps them simplify the purchase process.
Right now, there's a huge opportunity for vendors to simplify the purchase process by providing stakeholders the information they need to anticipate obstacles and overcome them, to provide information relevant to their organization and tech stack- and to help CISO's articulate the value of security. Understanding precisely what buyers want from their vendors and why they engage with them is what will continue to separate great companies from also-rans, growing companies from slowing companies.
There's just too many products and too little time to buy and sell. Security vendors must re-think how they go to market and figure out how to make it easier for prospects to buy from them -- Or face the consequences.
The Zero Trust Marketing Framework
Fear + Uncertainty + Doubt

+ Breach Shaming + Panaceas = 0
Making it easier for CISO's to buy means you need to understand their organizational objectives and how they buy, who the stakeholders are, their buying triggers, how they view alternative solutions, potential objections to your offer and how you can uniquely solve their problems. This takes not only a lot of work but a lot of discipline- you need to decide which types of customer profiles to focus on and take a deep dive into their world.
Security vendors tend to paint all CISO's and organizations with the same brush and promote their products as panaceas and "complete solutions", for every threat. Most vendors fail to understand that CISOs are dealing with a large number of threats, projects, audits, budget issues, compliance requirements, and politics. They have limited budgets, often depend on funding from other departments, and find it difficult to articulate the value of security to executive leaders and boards. A one-size fits all approach that doesn't take all these factors into account is doomed to failure. CISO's and their buying teams need vendors to provide useful content that addresses their specific needs and clearly explains the business and technical value of their offerings.
And too many vendors still rely on hyping the latest data breaches with proclamations and warnings like "Don't be the next <latest data breach victim>" while also putting to shame the unfortunate company that was breached. They think It adds a concrete example of what their solution protects against. It's timely because of the news. It's a great hook to get people interested in what follows. It helps non-technical people understand where their security solution fits into their world. It's also a huge oversimplification of the problem and the solution, and a lazy attempt at spreading Fear, Uncertainty, and Doubt, or FUD. And more importantly, when vendors take this approach with CISOs and other IT security buyers, it has exactly the opposite effect than was intended. That is, they put you into their mental list of "bozo vendors", who don't understand how difficult and complex it is for them and their peers to secure their organizations.
CISO's want to have technology partners that they can trust and work with to protect their organization, its assets, and operations.- and they have zero trust in vendors with messaging and content that's tone-deaf, irrelevant and unbelievable.
We Help You Focus and Communicate Value That Drives Teams to Purchase

And the problem isn't just FUD. Too many security vendors focus on their product's features, functionality, "speeds and feeds," they slap "AI/ML " on the product or boast the next generation platform for<insert category> and they're blind to how their offering integrates with the security stack. They promote all their product features in "show up and throw up" demos that take numerous sales engineers to explain them and several hours to demonstrate the technology. They pay too little attention to the customer's problems and how they can solve them - this approach short circuits the buyer's decision process. And too many sales processes are built by and for the sales force based on how they want to report progress rather than how buyer makes purchase decisions. but not aligning with the buyer's process actually makes things makes it harder for them to buy from you.
We'll work with you to get in sync with your buyers, and start by profiling your best-fit customers, their pain points, and buying challenges. Then we craft strategies to reach buying teams with relevant, credible, and impactful messaging, and useful content that makes purchasing easier Our approach results in a simpler more relevant buying because it's focused on the buyer and aligns sales and marketing from awareness to revenue.
DIFFERENTIATED CUSTOMER EXPERIENCES
With our customer-centric process, we design your marketing and selling interactions to meet your buyer's needs and follow the entire customer journey, align with customer expectations and increase revenue.
INCREASED SALES VELOCITY
When marketing and sales align, their combined effectiveness is exponential. We work cross-functionally to ensure your customer's journey is consistent from awareness to revenue - quality control from demand gen to sales enablement.
LOWER CUSTOMER ACQUISITION COSTS
End-to-End planning, execution, and measurement is critical for success. From the first digital touch point to the buyer's purchase, our team of experts helps you close the loop across your customer's entire journey.
What's Slowing You Down? We're Here To Help
A Proven Process for Delivering Results
"We've been working with Mark and his team for almost 2 years and I've come to regard him as a trusted advisor. He has been instrumental in developing our go-to-market strategy, updating our messaging and website, implementing Inbound marketing and working closely with our sales teams to adopt this approach. During this time we have seen a significant increase in the number and quality of leads our sales team is getting. He and his team have played a significant role in improving PRQA's sales and marketing effectiveness. I highly recommend the work of Agile Product Marketing Group.

"We contracted with APMG to establish a blueprint for our marketing efforts that included messaging, content development, sales and partner enablement, as well as campaign strategy and execution. Mark's industry knowledge and marketing expertise allowed us to plan and execute these projects quickly and effectively. Mark worked well across the sales, product, and marketing organizations - we would work with Mark again.

"We worked with Mark to develop the messaging and content we need to tell "the NuCypher story." We now have a solid sales and marketing foundation to leverage that includes our website, white papers, product sheets, and presentations to prospects and investors. He was able to quickly grasp our technology and helped us highlight our "secret sauce" capabilities that differentiate us from other big data security offerings. Mark delivers high-quality work and can be trusted to provide objective advice.