The Buyer's Journey is Complex – for buyers, marketers, and salespeople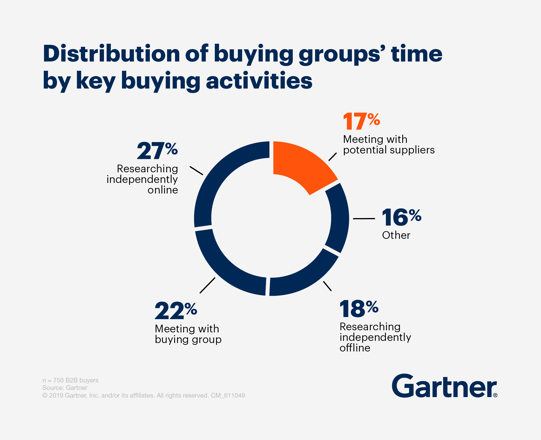 Think about this, more than 2,000 viable vendors compete in the cybersecurity market today, assume each vendor offers an average of three products, with each product carrying an average of five features, that would make the cybersecurity market bursting with nearly 30,000 features. It's overwhelming buyers are challenged to keep up - and vendors struggle to differentiate their offerings.
Buying has never been harder- researching complex technology products, buyers seek out guidance from a huge universe of online content, peers, analysts and are less reliant on live conversations with vendors. Sales become involved later in the process making it more difficult for them to directly impact purchase decisions.
With 7-10 influencers and decision makers across both business and technical roles, vendors struggle to provide buying teams with useful and impactful information.
The Margin For Error is Slim


Vendors That Make Buying Easier Win Big
What security buyers truly want in this complex buying environment is information that helps them simplify the purchase process. There's a huge opportunity for vendors to simplify the purchase process by providing customers the information they need to anticipate obstacles and overcome them. Understanding precisely what buyers want from their vendors and why they engage with them is what will continue to separate great companies from also-rans, growing companies from slowing companies.
Security vendors must re-think how they support the buyer's journey. Vendors need to understand how the buyer's journey has changed, how it has impacted the relationships between buyers, marketers, and salespeople.
​Ultimately sales and marketing teams must rethink their relationships with buyers and with each other. Or face the consequences.
The Zero Trust Marketing Framework
FUD,

Breach Shaming and Selling Panaceas Don't Cut It
Zero Trust is a security framework which states that organizations should not automatically trust anything inside or outside its perimeters and instead must verify anything and everything trying to connect to its systems before granting access. There's now a widespread distrust of Cybersecurity vendors, that is limiting their access to buyers and bogging down purchasing. Because for too long too many have relied upon copycat breach shaming tactics, creating fear, uncertainty and doubt aka. FUD and offering their products as a panacea for every security threat buyer's have zero trust in what they see and hear from a majority of security vendors. And this make the buyer's life harder because they need to determine if a product is relevant to their organization's problems and verify credibility of every of every product and feature they encounter.
Making the security buyer's life easier means you need to understand their organizational objectives, who the stakeholders are, their buying triggers, how they view alternative solutions, potential objections to your offer and how you can uniquely solve their problems. This takes not only a lot of work but a lot of discipline- you need to decide which customer profiles to focus on and take a deep dive into their world.
Most cybersecurity vendors paint all prospects with the same brush, and promote their products as a panacea for every threat, our solution provides 100% of <insert adjective>, and they're blind to how their offering impacts the current security stack, they slap a AI/ML powered tagline on the offering or boast the next generation platform for<insert category> . Yet the reality is that CISOs are dealing with a large number of threats, projects, audits, politics, budget issues, compliance requirements, and they need to demonstrate the value of what they do to management and the board, Most vendors lack insights into these challenges, apply a one-size fits all to sales pitches and marketing that fail to take this into account fail to persuade. Vendors who fail to understand both their buyers problems and how their technologies address them, produce tone-deaf, irrelevant and unbelievable pitches that result in zero trust in marketing, and fail to move buyers to make decisions.
We Help You Focus and Communicate Value That Drives Teams to Purchase

And the problem isn't just FUD. Too many security vendors focus on their product's features, functionality, "speeds and feeds," instead of the customer's problems and how they can solve them - this approach short circuits the buyer's decision process. And too many sales processes are built by and for the sales force because they think something formal will be better than anything informal. Unfortunately, not aligning with the buyer's process actually makes things worse. We'll work with you to get in sync with your buyers, and start by profiling your best-fit customers, their pain points, and buying challenges. Then we craft strategies to reach buying teams with relevant, credible, and impactful messaging, and useful content that makes purchasing easier.
This approach results in a simpler more relevant buying experience that differentiates you from the competition, and aligns sales and marketing from awareness to revenues, align sales and marketing ​
DIFFERENTIATED CUSTOMER EXPERIENCES
With our customer-centric process, we design your marketing and selling interactions to meet your buyer's needs and follow the entire customer journey, align with customer expectations and increase revenue.
INCREASED SALES VELOCITY
When marketing and sales align, their combined effectiveness is exponential. We work cross-functionally to ensure your customer's journey is consistent from awareness to revenue - quality control from demand gen to sales enablement.
LOWER CUSTOMER ACQUISITION COSTS
End-to-End planning, execution, and measurement is critical for success. From the first digital touch point to the buyer's purchase, our team of experts helps you close the loop across your customer's entire journey.
What's Slowing You Down? We're Here To Help
A Proven Process for Delivering Results
"We've been working with Mark and his team for almost 2 years and I've come to regard him as a trusted advisor. He has been instrumental in developing our go-to-market strategy, updating our messaging and website, implementing Inbound marketing and working closely with our sales teams to adopt this approach. During this time we have seen a significant increase in the number and quality of leads our sales team is getting. He and his team have played a significant role in improving PRQA's sales and marketing effectiveness. I highly recommend the work of Agile Product Marketing Group.

"We contracted with APMG to establish a blueprint for our marketing efforts that included messaging, content development, sales and partner enablement, as well as campaign strategy and execution. Mark's industry knowledge and marketing expertise allowed us to plan and execute these projects quickly and effectively. Mark worked well across the sales, product, and marketing organizations - we would work with Mark again.

"We worked with Mark to develop the messaging and content we need to tell "the NuCypher story." We now have a solid sales and marketing foundation to leverage that includes our website, white papers, product sheets, and presentations to prospects and investors. He was able to quickly grasp our technology and helped us highlight our "secret sauce" capabilities that differentiate us from other big data security offerings. Mark delivers high-quality work and can be trusted to provide objective advice.