The Challenge: Filling Your Funnel With Qualified Leads
The buying process for B2B technology is long and complex, and only 4% of website visitors are actively looking to buy - how do you do reach the other 96%? And how do you identify the best prospects?

You might have invested a lot of time and resources into your website but are disappointed it's not producing the qualified leads and customers you'd hoped for. You may be doing everything "right" - and investing time and effort into SEO, AdWords, and content but, haven't seen results, or if you have, it hasn't translated to more leads and sales.

Many technology companies feel that because they have a great product and breakthrough advances that it will attract interest. But the data doesn't lie, you might have steady traffic to your website and digital channels, but are you attracting the highest quality prospects? Are visitors bouncing, only to move on to a competitor? There are a number of factors which might contribute to the problem including, your persona targeting, your content, your content promotion, your landing pages, or all of the above.
Hubspot
The Solution: Help Them Throughout The Buyer's Journey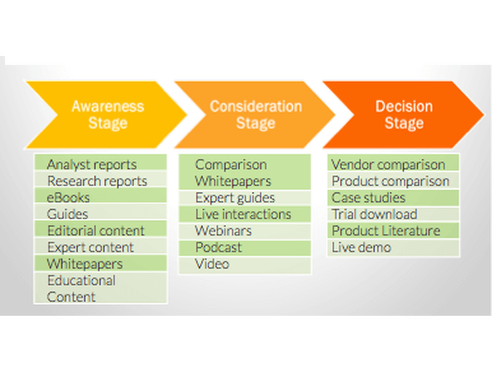 Technology marketing needs very compelling content to address both technical and business audiences.

We develop a plan to increase qualified leads by maintaining a seamless transition through their buying process, from awareness to decision, which leads your buyers to gain insight about your unique value.

​Buyers progress through a number of stages before purchasing, and you need to connect with them at each one, if you want to have an impact on their buying decisions. Initially, you need to gain the buyer's attention and make them aware of your offering, then convince buyer stakeholders you meet their technical and business requirements, and ultimately assure them their purchase is a sound and justifiable business decision.

​The key to connecting with buyers is understanding their needs, motivations, and challenges. We can help you to capture this information in buyer personas for each role and stage in the buying process and to map content that helps move buyers to the next stage in the buying process.

With a constant flow of fresh targeted content promoted through the right channels, you can build awareness and affinity, drive traffic, and generate leads. And by employing comprehensive sales enablement, you'll ensure that handing off a lead to sales continues a natural conversation with buyers, creating internal champions and turning leads into customers.
93% of marketers say that content marketing generates more leads than other methods. But Only 30% of B2B marketers say their organizations are effective at content marketing.
​Effectiveness levels are greater among respondents with documentation, clarity around success, good communication, and experience.
​
-Content Marketing Institute
A Solid Strategy Has a Multiplier Effect Throughout Your Funnel
​
Increased Traffic
​
Ensures that you're consistently blogging, keeping up with social media, and frequently offering new premium content to help search engine optimization, keep your contacts engaged and bring in new leads.
Better Promotion
​
​Understanding of where your customers spend their time online, and where they go to get their information will allow you to better target your content and promote it in the places your prospects are most likely to see it.
Consistent Dialog​

When both sales and marketing are pursuing the same targets and delivering the same messages, you'll be better able to have a deeper dialog that's more credible and more personalized.
Better Quality Leads

Providing personalized and relevant content makes a personal connection and better directs your messages in a more relevant and credible manner to increase the effectiveness of lead nurturing programs. ​
Ongoing Improvement

Once you know which content and offers drive higher quality leads, you you can keep improving your sales and marketing strategies --
increasing sales velocity and lowering the cost of sales.
Content Marketing Playbook
We accelerate your strategy with a 30-day, planning project to evaluate your current situation, establish goals, and then analyze your buyers and their motivations and buying processes. The result is an agile plan of action, complete with content, schedules, the infrastructure you'll need, and a budget and proposal to implement.
Situation Analysis Evaluate trends, resource, performance and competitive environment

Establish Business Goals and KPIs

Define measurable growth objectives and determine KPIs and ROI

Target Buyers and Personas

Selection and analysis of market opportunities, buyers and buying processes

Content themes for each stage and objective of your sales funnel

Strategic Plan Action-driven plan for infrastructure and campaigns to deliver results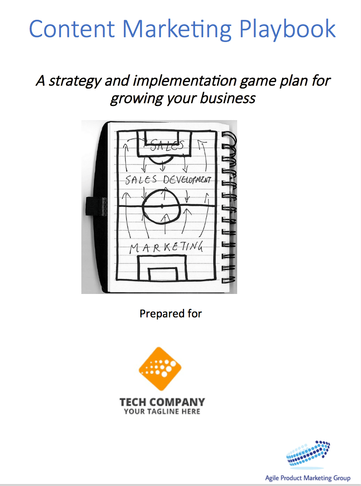 If you're committed to growing your business, we're here to help.




Let's improve your marketing and grow your sales pipeline.
Get Your Content Marketing Playbook Now!
CLICK HERE NOW TO SCHEDULE