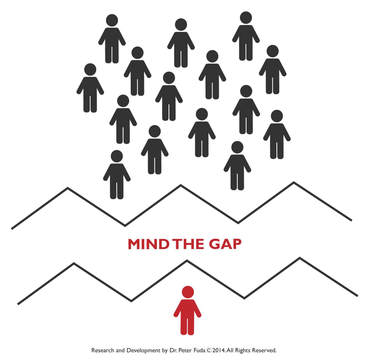 The Great Divide:
If you're trying to understand how product marketing can bring value to your organization try looking at it from the CEO's perspective. The CEO of a global IT security vendor recently emailed me and stated:
"In brief, our current challenge is the gap that exists between product management (very technical) and marcom. We need to do a better job on sales enablement, competitive analysis, pricing, licensing and all that goes with product marketing...Getting this right is the key to our growth"
Addressing Products Not Problems
This statement says a lot and gets to the heart of what holds many technology companies back.

---
The product side of the house is very focused on the user and how the technology will perform – and can usually do a great job of explaining this to both sales and marketing communications (as well as sales engineers and technical audiences.) But this information isn't what sales and marcom need so they can effectively communicate with prospects to gain their attention and communicate the value of purchasing your product. Consequently, if the only information you have is product specs and functionality, then result is that you end up focusing on the product not the problem the prospect is trying to solve.
Buyers Seek Information Not Products
In today's buyer-driven sales process the inability to translate technical functionality into business value that helps an organization to improve operations, lower costs, reduce risk etc…is a liability. Buyers are motivated because they have a problem to solve and it's often the case that marketers need to make them aware of the problem they have or will have soon. Once they recognize this need, buyers then expect to be able to perform extensive research on products and how they can solve their problems, before engaging with sales
.
Their research extends well beyond just product specs in data sheets and feature functionality comparisons. And once a buyer chooses to engage with sales, your reps need to be able to understand the buyer's problems, articulate how your products solve those problems and what differentiates your offering from the competition.
Bridging the Gap
As indicated above, to meet the CEOs challenge and effectively market and sell products you need to bridge the gaps between sales, marcom and product - which is where product marketing plays a key role. To address the improvements required by this CEO requires product marketing expertise to provide inputs and outputs based on the following elements.
Market Knowledge: segmentation, buyer personas, organization stakeholders, purchase motivators, competitive intelligence, use case scenarios, and customer problems.
Technical and Domain Knowledge: Industry trends and drivers, regulations, key players, technology ecosystems, use and implementation considerations, how technology works, what it does and how it is applied
Business Strategy: go-to-market strategy, sales strategy, channel strategy, sales pipeline definition, and market strategy definition.
Tactics: lead generation plans, customer retention programs, branding, awareness, field marketing program definition, campaign definition, social media, analyst and media relations.
Content: sales support materials, whitepapers, brochures and data sheets, presentations, demos, web site content, ROI calculators, blog posts, forum content, case studies, press releases, FAQ's, other special purpose content and video.
Optimization and Market Learning – ROI tracking, pipeline tracking, website metrics tracking, customer advisory boards, customer focus groups and user groups.
Sales Enablement: Taking all of the above elements and making them useful to sales to accelerate the buying process incorporating the into training, feedback updates, account and territory planning Who to target, what messages to convey, what their pain points are, what content to present and when to address their pain points
How Well Is Your Organization Addressing This Challenge?:
With the above-mentioned areas covered this CEO will be able to address the challenges which are holding back his company's growth and profitability. He knows where the impediments to growing his business are and is focused on removing these obstacles – are you?
Take a deeper dive with these guides:
Developing Product Positioning
Looking At Your Product From The Customer's Perspective
Developing Product Messaging
What Does Your Product Do? And Why Should I Care?
8 Critical Sales Enablement Mistakes:
How Marketing Fails Sales and What To Do About It